SKIP AHEAD TO
Configuring the Email block
Download Links Contained in E-mails
Email blocks send automatic email notifications to specific stakeholders with the option to include Transcripts and Reports. Both the email subject and body can be customised with static text and variables.

Configuring the Email block
---
Specifying a fixed Contact Email
Sending emails to a fixed email address is useful if the automated email is not subject to change. For example, a general contact for enquiries or support (e.g. support@checkbox.ai) can be used. This can be done by clicking into Email Builder on an Email block and typing the contact email address in the contact field.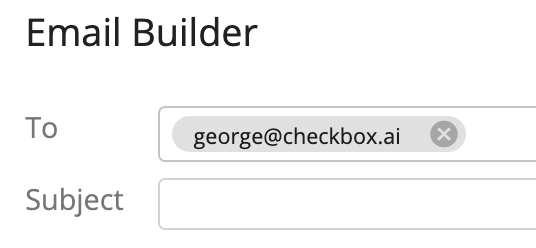 Using Variables
Alternatively, email addresses entered during an assessment can be used as send recipients. Rather than typing the fixed email address, enter the variable that contains the desired email address.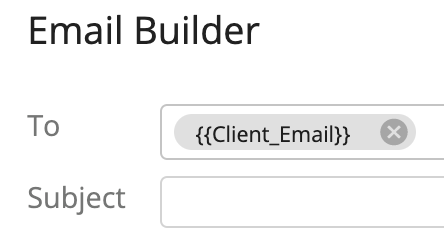 Variables can also be used in the email subject and body according to the end-user's input. For example, their name can be added to the email body for full customisation.
Additionally, the meta variables can also be referenced in emails. See the list of metavariables available for use in email blocks.
Note: The use of variable conditions cannot be used inside the Email block. Learn more about conditions and where you can use them.


Attaching Transcripts
Check the box for 'Transcript' to attach a transcript to the automated email. A Transcript block does not need to be present before the email block but to maximise user experience, we recommend adding a Transcript block to give end-users the option to review and edit their answers before sending the automated email.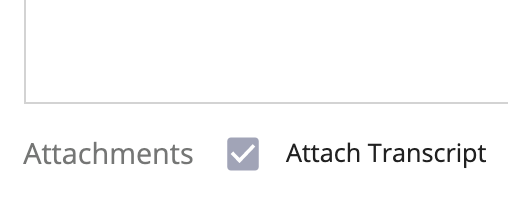 All Transcripts will be attached to an automated email as a .pdf file.
Limitation:
URL and mailto links are not linked to texts in the downloaded transcript file. For example, "

Link to Checkbox Website

" will be shown as a static text "Link to Checkbox Website"


Attaching Reports
Multiple Reports can be attached to the automated email by selecting the Report File Name of the relevant reports. The multiple Reports attached to the automated email will be sent in a .zip file. If only a single Report is attached to the automated email, it will be sent without being compressed into a .zip file.
Unlike transcripts, reports must be generated using the 'Doc Gen' block before it is available for attachment to the email.



Upon reaching the Email block, the app will automatically email the Transcript and selected Reports to the emails/s specified.
Download Links in Emails
---
Emails sent from an app include download links for the Transcript and Report in each email:

By adding in the variable [[transcript_link]], end-users will receive a link to view the transcript and report on Checkbox.

While on the transcript page, they can also download any uploaded files by:
Clicking on the relevant attachment symbol: