Premium Checkbox Feature
This feature is only available for customers who have access to Premium features. Please get in touch with your customer success manager if you have any enquiries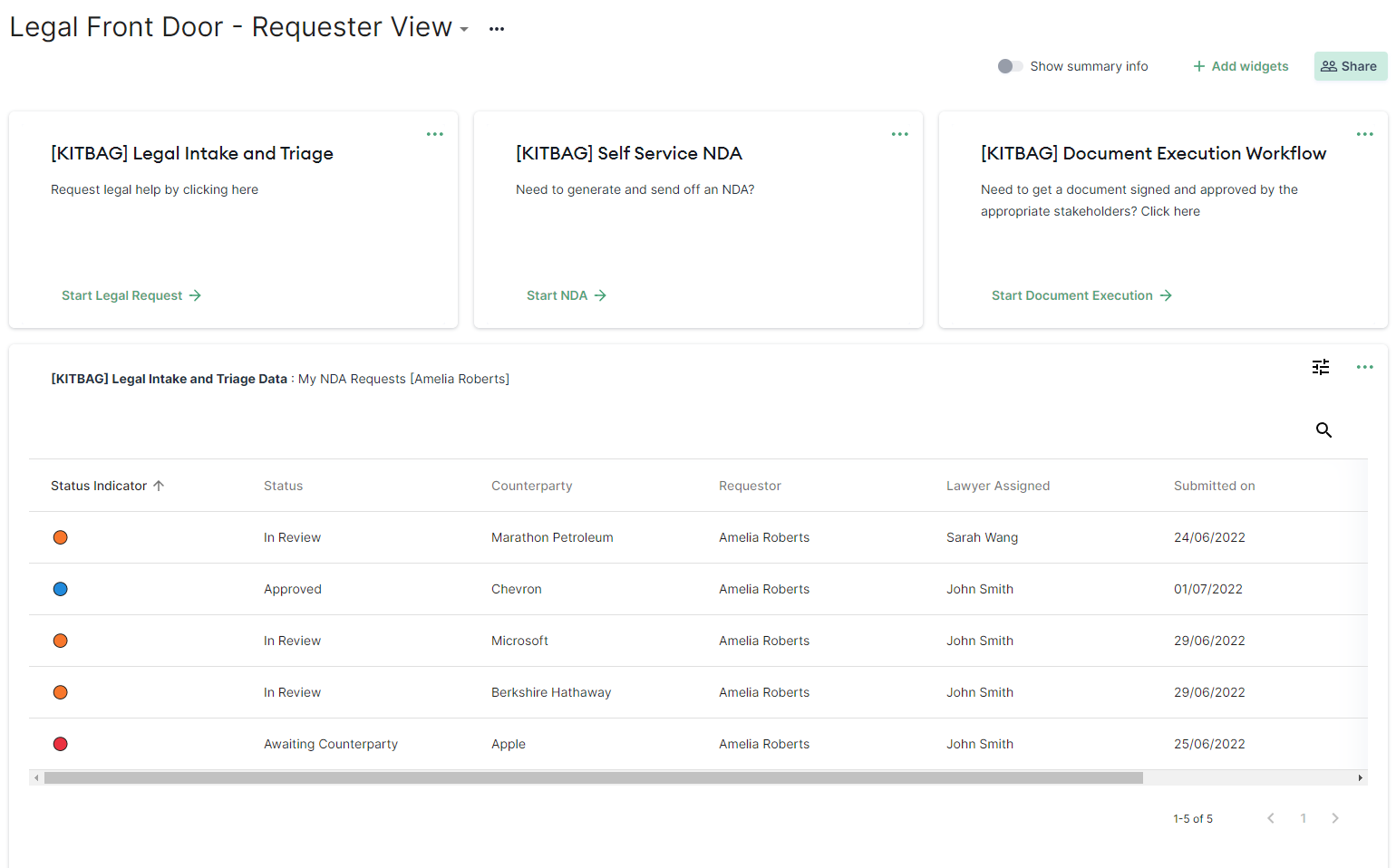 Dashboards are a configurable collection of Widgets that allow you to create tailored experiences for your end users and stakeholders, such as:
Embeddable service request portals that allow your users to start Apps and view the requests they've submitted
Reporting dashboards that show activity and trends over time for executive stakeholders
Operational dashboards to check and action tasks that are due soon
Creating Dashboards
Dashboards can be created within both Solutions and Teams by clicking on the Dashboard name and selecting 'Create new Dashboard'.
Team Dashboards are created from within the Teams interface, and can be configured with any Widgets from any of the Apps that have been deployed to the Team. Team Dashboards can further have custom access controls applied to them, allowing you to create different Dashboards for different stakeholder groups. Only Team Owners can create Team Dashboards.
Solution Dashboards can be thought of as 'templated' Dashboards. Updates to Solution Dashboards are pushed to all Teams to which the Solution has been deployed. Only Solution Authors can edit and create new Solution Dashboards.
If you're uncertain, go with Team Dashboards!
Configuring Dashboards
Dashboards can be configured by adding Widgets to them. Any Widgets that are available within the Team or Solution can be added to the Dashboard.
Find out more about Widgets here.
Sharing and Embedding Dashboards
Team Dashboards can be shared with your whole organisation, users within the Team, or selected users only. These Dashboards can further be embedded within other web products as needed to help create a seamless experience for end users.
Dashboards can only be viewed by authenticated users.
NOTE: Only Team Dashboards can have configurable access controls and can be configured by Team Owners. Solution Dashboards can be seen by all users within deployed Teams.
What data can be seen within Dashboards
The same Dashboard can effectively display different data for different users, depending on the level of data access they have for the App data that is being shown.
For example, if a user has access to a Dashboard with a Widget that is configured to show all the Assessments for an App, but only has 'View own assessments' permission for that App, the user will only be able to see assessments to which they are assigned.
Find out more about App permissions here.