Premium Checkbox Feature
Usage of this feature requires account access to Premium Checkbox features. For queries related to your licence agreement, ask your account administrator to contact your Checkbox Account Manager.
SKIP AHEAD TO
How to create widgets
Widget filtering
Export Assessment data
How to create widgets
List views allow members of a Project Team to customise which metrics about their app they see at a glance and in what format they see these metrics. They look something like this example:
Note: Widgets with upload FILE variables will allow users to download uploaded files by clicking from the dashboard.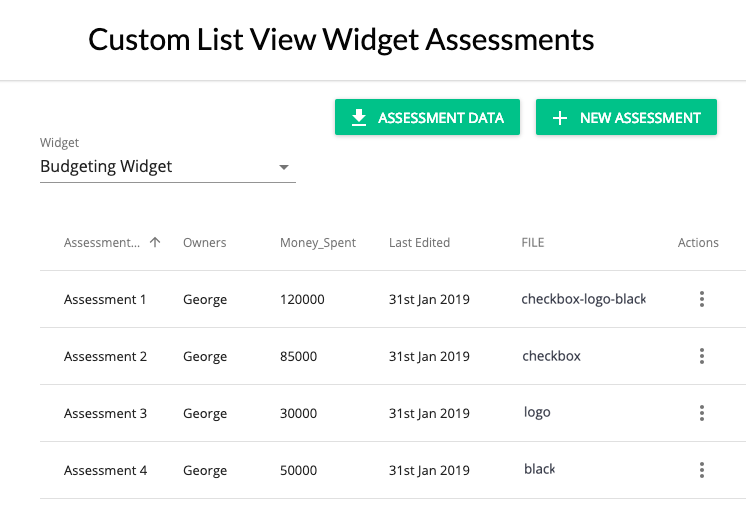 To create a custom list view widget:
Click on

Project Teams on the taskbar at the top of the screen.

Click on the name of the relevant Project Team.


In the left panel, click

Widgets.



Click

+ New.


Write a name for the custom list view widget. This will appear as a heading above the list view widget on the Assessments page.

In the Type dropdown, select 'List View'.



Click

Create.


Click on the

Select a column to add

field to add columns to the list view widget.





Using

exposed variables

, set

conditions

in the Filter section to define the subset of assessments that will appear on the list view widget.




Click

Save.

There is a default list view widget configuration that you can select with these 6 columns:
Assessment Code

Assessment Name (if the Project Team is private)

Owner (if the Project Team is private)

Status

Date Created

Last Edited

Actions. This is a dropdown containing the View Transcript, View Report and Delete Assessment actions, if the user has been granted these permissions.
'Version' can also be used as a column heading, allowing users to see the app version an assessment was completed on.

For apps that contain Docusign, users can add a 'DOCUSIGN_STATUS#' (e.g. 'DOCUSIGN_STATUS1') column to the list view widget that displays whether the envelope(s) have been 'Sent' or 'Completed'. A blank space indicates that the envelopes have not yet been sent. Users are able to hover over the status values ('Sent' or 'Completed') to view the name(s) and email(s) of signatories and determine their respective signing statuses.

In the case that an app contains multiple Docusign blocks, multiple columns for Docusign can be created and their default column name will have the format of 'DOCUSIGN_STATUS#' (e.g. 'DOCUSIGN_STATUS1'). It is recommended that the column names are renamed in the list view widget to ensure clear reference to the respective Docusign block.


Widget filtering
As an example of how a filter works, if:
Your App has a 'Task_Number' variable inside of it; and

You set the filter condition Task_Number > 10 in the Widgets page
Data from any assessments in which a number less than 10 was provided for the Task_Number field will not be included in the list view widget. Click here to read the syntax rules for conditions.
The following types of conditions are available for the listed variable types:
| Variable Type | Operator |
| --- | --- |
| User Variables (i.e. User Picker and user-related column types) | "include any of [me]"; "excludes [me]" |
| Text | "equal to"; "not equal to"; "contains"; "does not contain" |
| Number, Slider | "equal to"; "not equal to"; "less than or equal to"; "greater than or equal to" |
| Yes/No, Dropdown, Radio, Checkbox | "include any of"; "excludes" |
Export Assessment data
Team administrators can export assessment data in widgets as a CSV file. The variables included is based on the current column configurations and the filters (if any) used in the widget will be applied to the data exported. To export assessment data:
Select the list view widget from the list:

Click 'Download CSV'.
Note: only data in custom list views can be exported. We do not support exporting chart type (pie and bar) widgets.