SKIP AHEAD TO
Creating your Project Team
Deploy your App Externally
Deploy your App Internally
External Assessment passed onto Internal User
A Project Team:
Controls the deployment of the App assigned to it; and
Can access and analyse the data entered by end-users for each Assessment.
Creating your Project Team
---

There are two access types for Project Teams:
External Project Teams allows anyone with a particular public URL to access and complete an assessment without requiring an account. There is an option to have a Security Code (that can be reset anytime) to increase security.
Internal Project Teams requires users to sign in before starting or continuing assessments.
In both scenarios, users will need to log in and be invited to the Project Team to view the progress and outcome of assessments.
To create a Project Team:
1. Click Project Teams from the navigation bar. Here, click Create New Project Team. Alternatively, you can also create a new Project Team from the landing page of an app.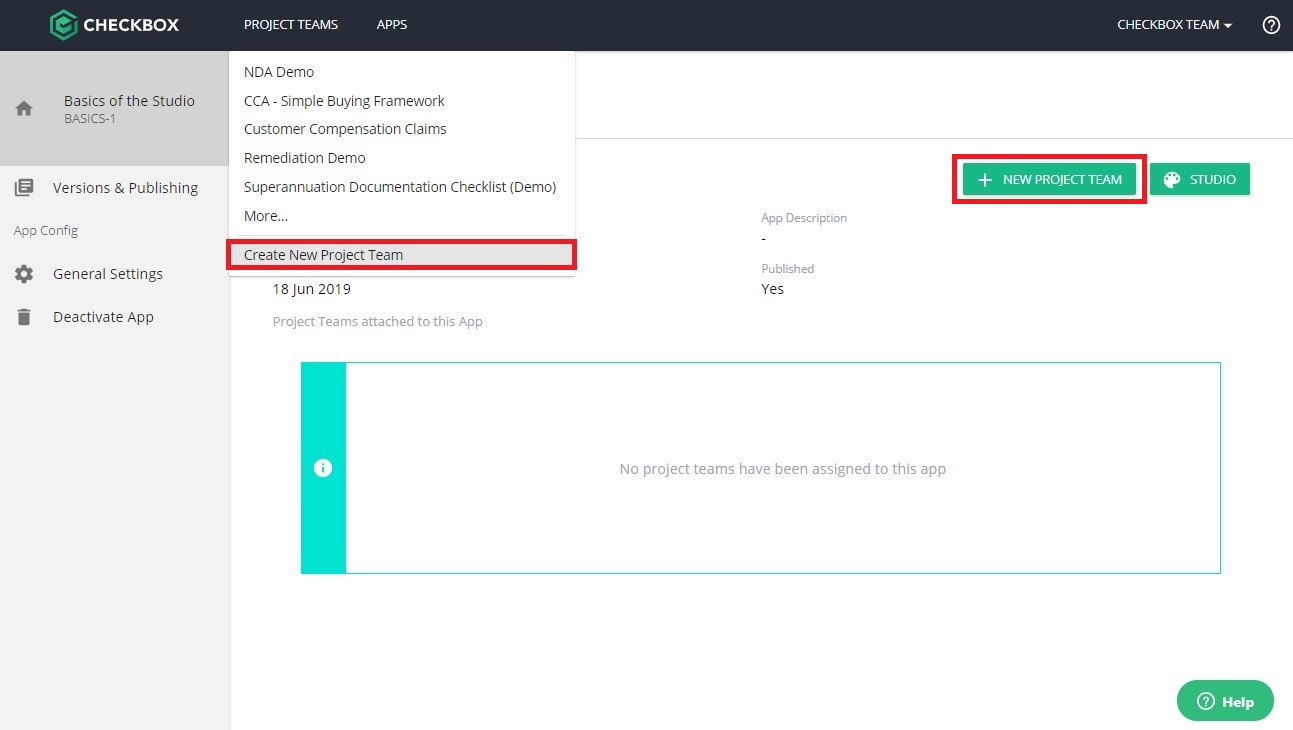 2. Enter in the Project Team details and make sure the app in the App Name dropdown list is the correct one. Only published apps will appear here.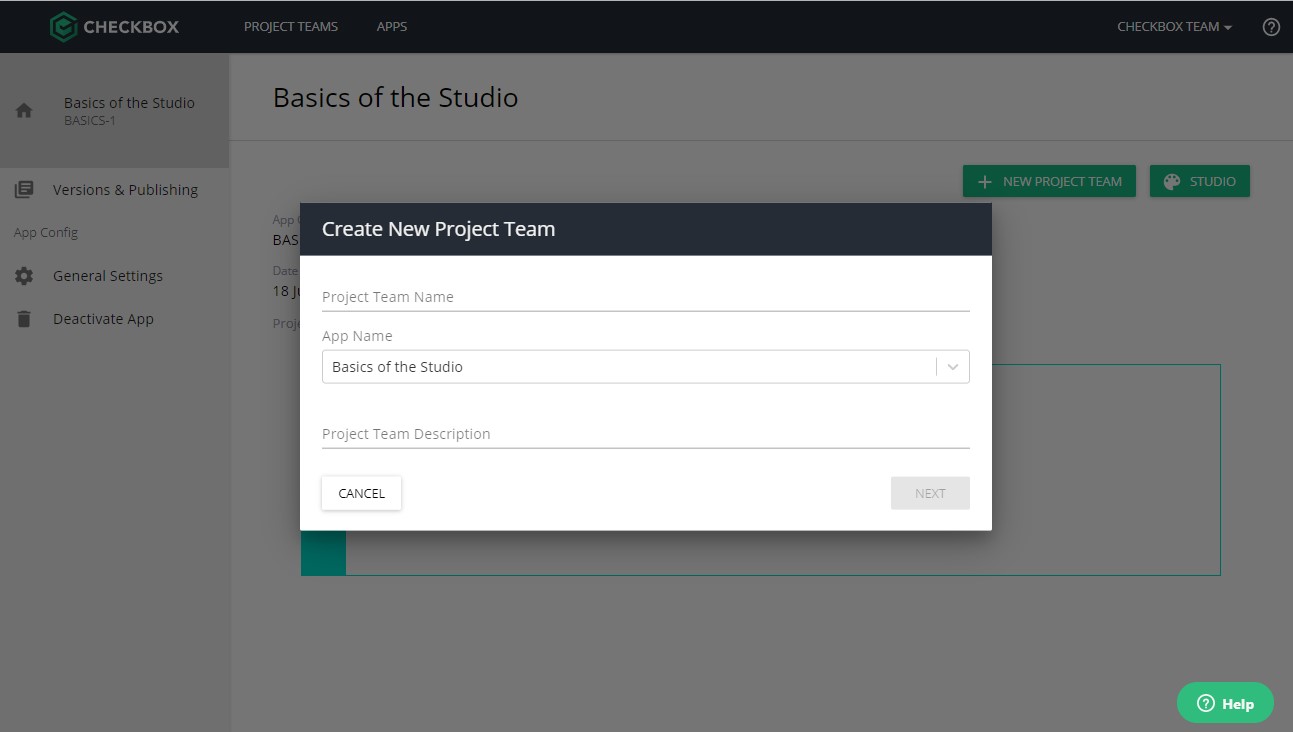 3. After clicking Next, choose whether you want people to access the app Externally or Internally. This access type cannot be changed once set.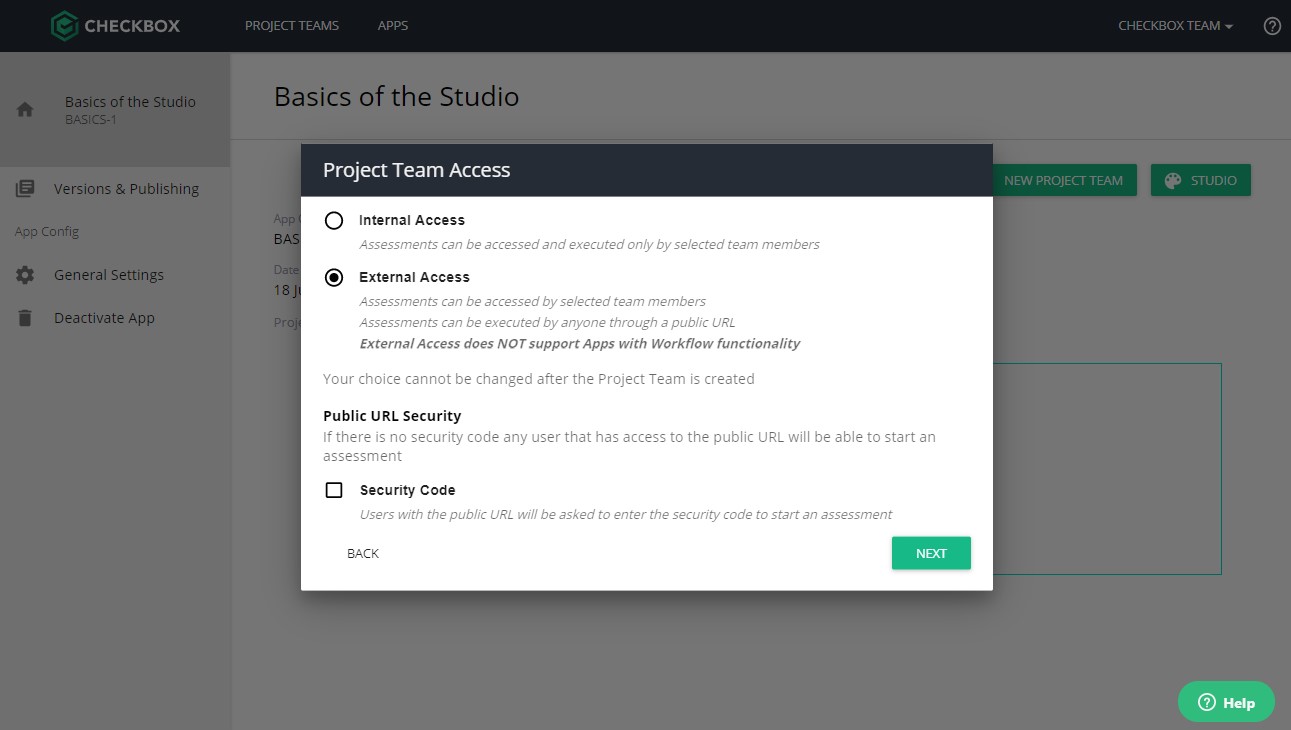 Deploy your App Internally
---
Internal Project Teams are advantageous when only selected users should have permission to start assessments, giving managers a higher level of control over permissions.
To create assessments from an Internal Project Team:
1. On the landing page of the Project Team, click Assessments and then + New Assessment to begin.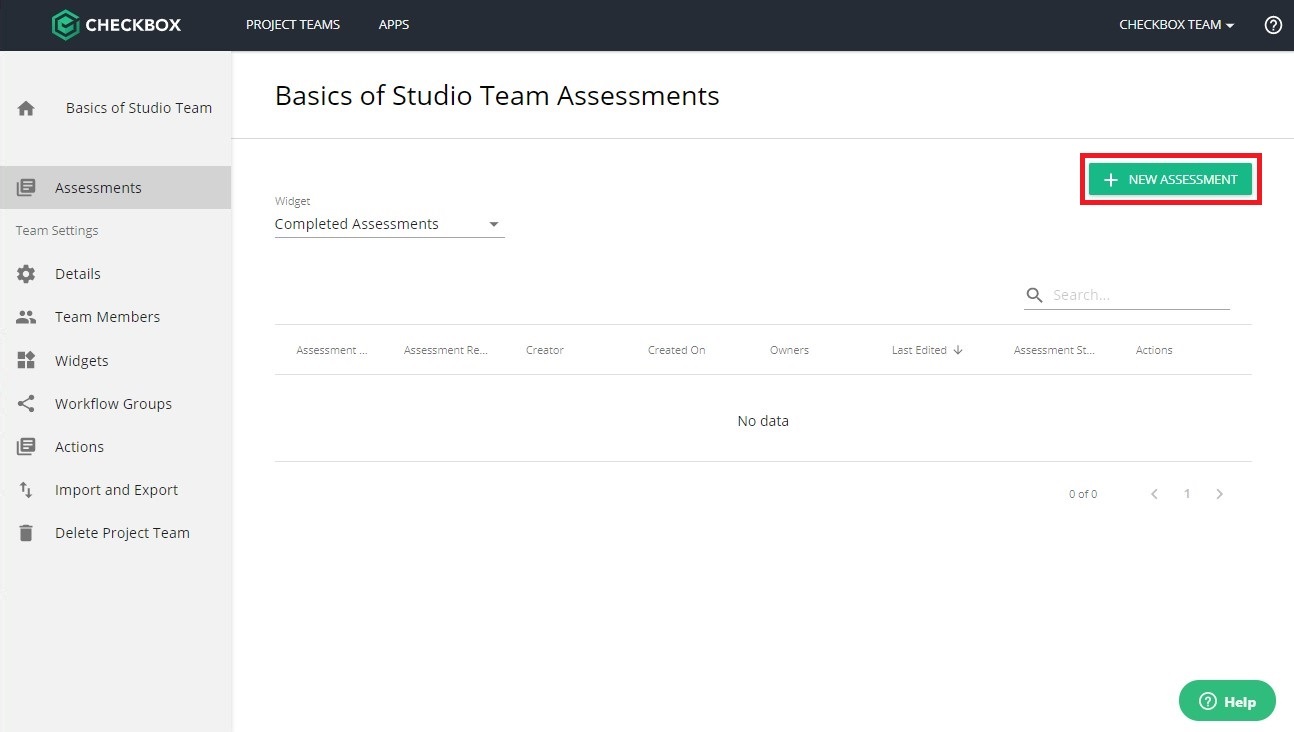 Deploy your App Externally
---
Assessments in External Project Teams are created using a public URL without requiring users to sign in. This is beneficial if you want fewer restrictions for users when starting assessments.
1. To know which URL to use, navigate to the landing page of the Project Team where the Access URL and Security Code (if required) can be attained.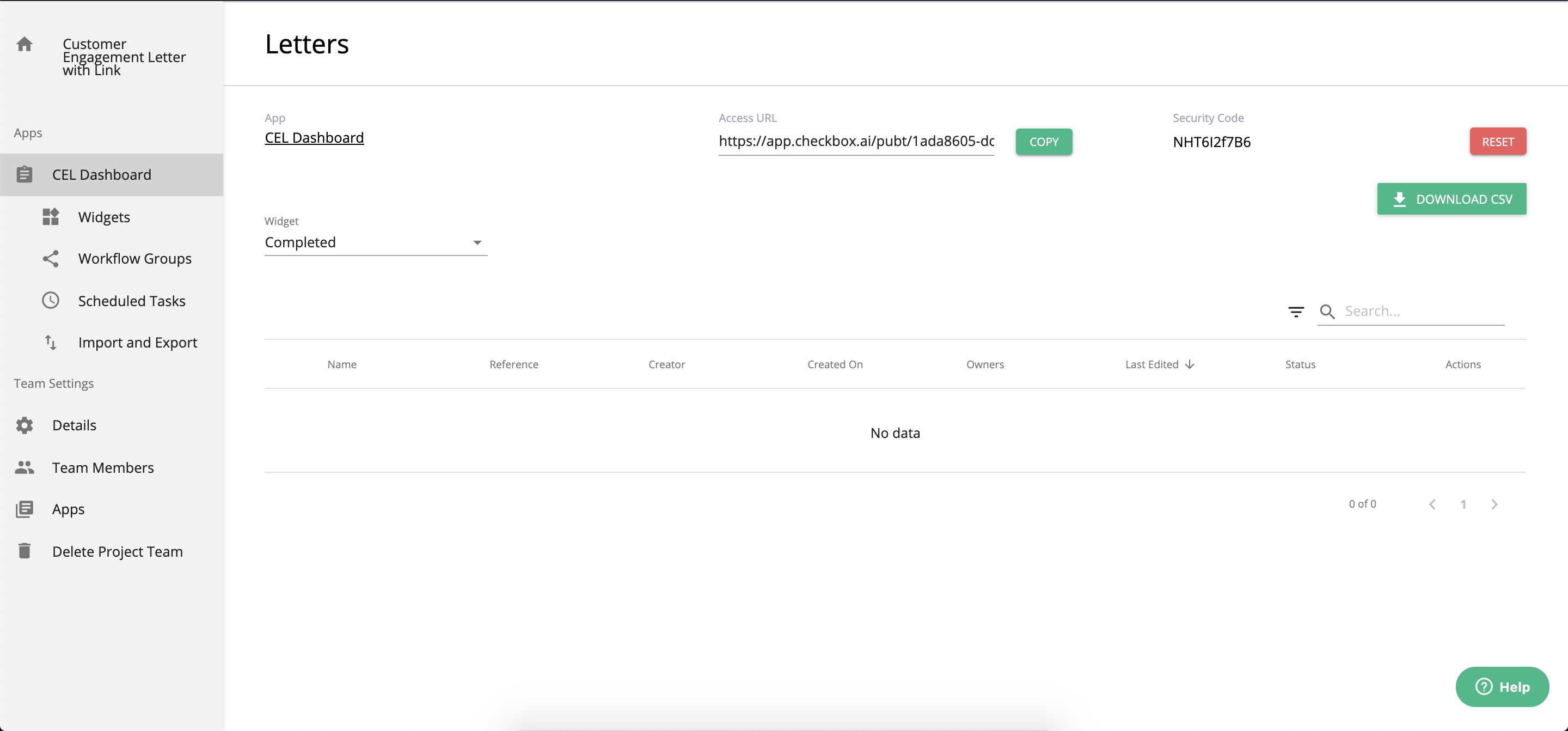 3. This URL directs users to the landing page from where they will begin the assessment. Every time "Start" is clicked, a new assessment is created.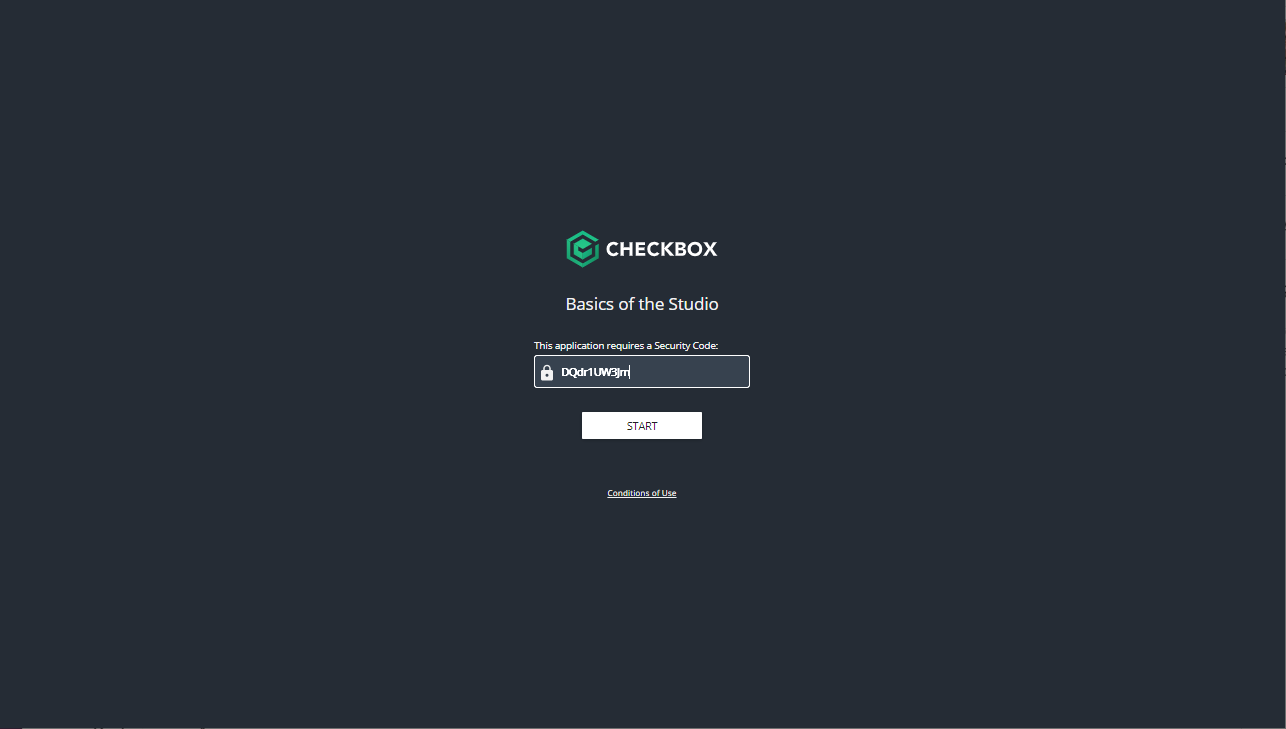 External Assessment passed onto Internal User
---
When deploying an app via public URL, a workflow block can be used to send the assessment from a public user (without a Checkbox account) to an internal user (a user with a Checkbox account).
Note:
You can not go from private to public (i.e. send an assessment from a private user to a public user.)
You can not pass an assessment from one public user to another public user using a Workflow block.