🎉 Congrats on finishing up your app - it's time to get certified!
1. Test Your App
Use the Preview function to make sure that you've covered all of the requirements from the process map and document, and that your app functions correctly
2. Deploy Your App
Once you're happy with how the app works, publish your app and create an internal Project team called "[Your Full Name]'s PR App". Run a test using the New Assessment button to check that everything is working as expected.
3. Complete the Submission Form
That's all the hard yards done –click below to access the submission form. You'll be prompted submit your basic details and then confirm your submission.
Our team will review your submission and be in touch if any clarifications are required. Once we've confirmed that you've successfully met all requirements, you'll officially be a Certified Checkbox App Expert!
4. Let the world know!
We would love you to share your certificate with the world!
Letting people know about this course help us not only improve the course, but get more certificate modules developed!
One of the ways you can do this is via LinkedIn - an example post might look something like this:
I'm very excited to announce that I am a Certified Checkbox App Designer!

Throughout the program, I learned how to design, build and deploy my very own no-code Checkbox App.

I would recommend anyone interested in no-code automation to check out Checkbox: checkbox.ai/resources/certifications/

#nocode #automation #checkbox #checkboxcertified
Here's an example of how our CEO, Evan Wong did it: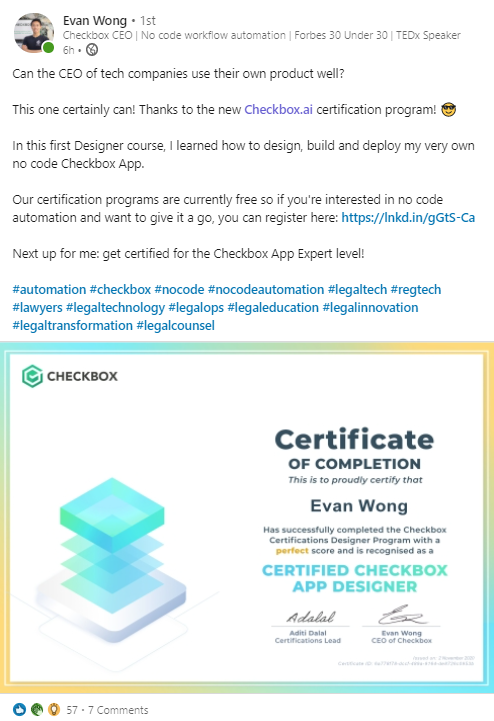 5. How to add your certification on LinkedIn
Be formally recognised for your certification effort on LinkedIn!
Head over to your profile
Click on "Add Profile Section"
Click on "Background" -> "Licenses & Certifications"
Insert the following and click "Save"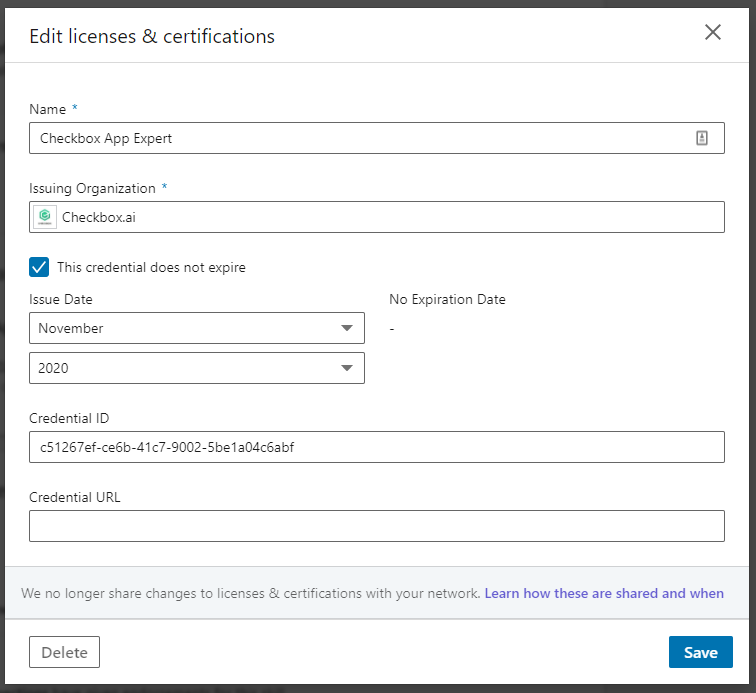 6. Want more?
Looking to get another Checkbox Course under your belt?
Consider signing up for our Checkbox App Master course, where we'll show you how to obtain complete no-code mastery and proficiency of Checkbox Apps with the ability to create complex solutions.
Congratulations, and good luck! We're really excited to see what you've put together :)
Checkbox Certifications Team