SKIP AHEAD TO
What is Checkbox?
Application Building Capabilities
Deployment Capabilities
Common Checkbox Use Cases
What is Checkbox?
Checkbox is the leading no-code platform for automation and workflow. Using drag and drop, business users can build solutions that enable their organisations to do more with less, all while providing superior client experience through Checkbox's clean, easy-to-use customer interface.
Checkbox applications are used to automate advice, digitise approval workflows, conduct weighted risk assessments, facilitate intake and triage, generate documents and more.
Because Checkbox is truly no-code, experts and business users can build and maintain apps without relying on IT teams or Checkbox, providing greater control over development cost and timelines and giving teams the flexibility to rapidly adapt to user feedback or process changes.


Application Building Capabilities
All Checkbox Apps are built using our drag and drop App Studio. This allows:
Capturing variety of data types (e.g. text, numbers, drop-down lists, etc.),

Processing captured data through calculations and dynamic display of information based on inputs, and;

Implementing workflows to allow for seamless transitions in multi-user processes;

Automating document generation and e-signing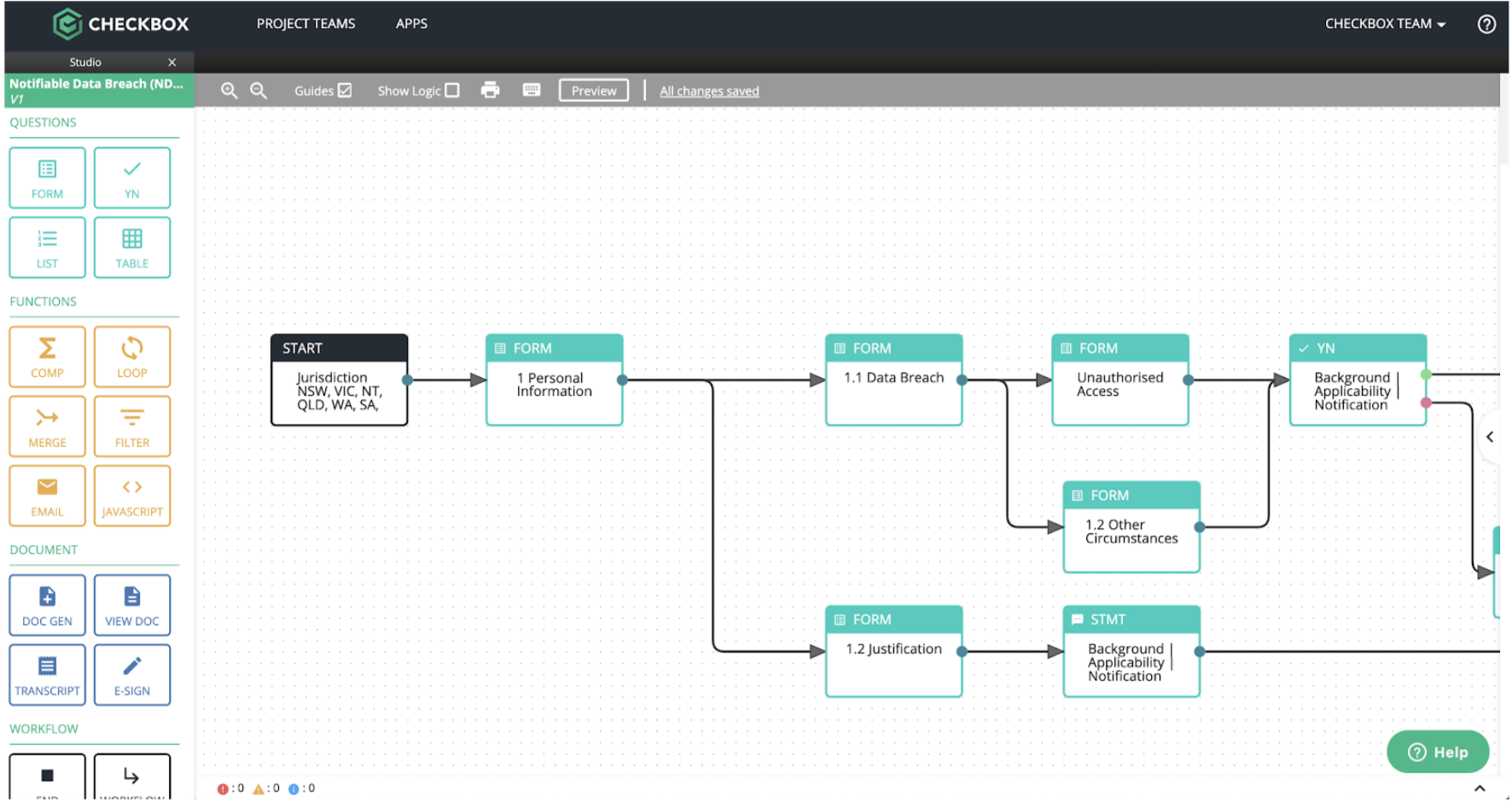 Deployment Capabilities
Once you have developed an App on Checkbox, you can deploy your App to end-users both internal and external to your organisation. Deployment allows end-users to run-through the app. Each run through is referred to as an "Assessment" in Checkbox, though this terminology can be changed to match your organisation's needs.
You can choose whether you would like your App to be launched either internally within their organisation (e.g. within the HR or Legal team to support their ops) or externally with users outside of their organisation (e.g. law firm clients deploying lead-generation apps to their client base). Internal apps require users to log into Checkbox, while externally deployed apps don't require end-user login, providing access via a publicly available URL generated in Checkbox.
Once you have deployed an application, you can assign people permission to view and assess the outcomes of the assessments.
With access to premium Checkbox features, you can also create visualisations and analytics based on your users' responses. Learn more about dashboards.
Common Checkbox Use Cases
Checkbox's no code approach to app development is central to the platform's versatility and ability to cater to a wide variety of use cases, including (but not limited to):

Information Capture & Transformation
Checkbox apps can be used to simplify information capture processes. Use cases:
Employee onboarding information collection

Customer enquiry capture

Surveys and data collection
Checkbox can also synthesise and transform previously collected information to fit any purpose. Use cases include:
Bulk document generation

Extraction from data sets (e.g.

bulk import data

for review)




Intake and triaging
Checkbox can be used to create apps that navigate the user through a knowledge base and provide live advice based on the end user inputs. Use cases:
Legal Intake and Triage

IP Commercialisation Q&A

Policy Compliance

Notifiable Data Breach Assessment (NDB)

Customer Compensation Claims Assessment

Conflicts Assessment

Regulatory Compliance Audit
Learn more about Legal Intake and Triage here.
Multi-user input and approval
Checkbox can automate complex business processes, including multi-user processes, to improve operational efficiency. Use cases:
Document Execution Workflow (also known as Delegation of Authority)

Procurement spending approval with required supporting documents (contracts, compliance audit trails, etc.)

Customer agreement generations and approval

Complete insurance claim processes including intake, verification, compensation calculation & review
Learn more about Document Execution Workflow here.
Document Generation and Automation
Checkbox facilitates the rapid, self-serve generation of bespoke documents, with options for approval workflow, e-signature and status tracking. Use cases:
Non-Disclosure Agreements (NDA)

Product Disclosure Statements

Master Service Agreements

Employment-related document generation (contracts, separation letters)

Trade Promotion T&Cs
Learn more about document generation automation here.